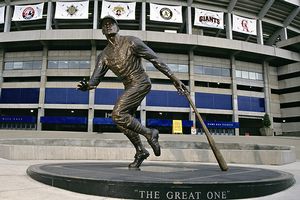 Welcome to part 8 of the 11 part series on the 2017 New York Mets roster (assuming the choices exist among the existing personnel in the majors and minors). Today's the Robert Clemente memorial tryouts for right field.
Curtis Granderson
We all know how the manager likes to go back to what's worked 100 years ago. When Granderson came to the Mets he was slotted inexplicably in right field where his rag arm was a regular embarrassment. Given the fact he'll be 37 and his arm is not improving, it's time they get the idea of Granderson in right off the table once and for all.
Michael Conforto
With Yoenis Cespedes calling the shots as to where he wants to play (left field being his apparent preference), Michael Conforto could wind up in right simply to get his low cost bat into the lineup. He's a seemingly adequate fielder but he's paid primarily for what he does with a bat in his hands. There are other options for where to play Conforto, but it's in the team's best interest to cultivate him into an everyday regular.
Yoenis Cespedes
If you're going to renegotiate a deal with Yoenis Cespedes to let him extend his contract with the Mets, make it contingent upon him playing RF instead of LF. With the arm he has out there it's a crime to waste it with the shorter throws from left. I can't see it happening, first because he'll go to whomever shows him the money, and second because as a superstar he will be the one who decides where he'll play. For a team that's always been wary of 24+1 types, they've made their peace with Cespedes due to what he delivers on the field.
Jay Bruce
The Mets are no strangers to players who were All Star caliber hitters elsewhere and then came to Queens to morph into someone who swings the bat only marginally better than a good hitting pitcher. Jim Fregosi, George Foster, Jason Bay, Bobby Bonilla and many others immediately spring to mind. Jay Bruce has started his Mets career in similar fashion, but do remember he was leading the entire league in RBIs when he arrived. With a modest $13 million option for next season, it's a no brainer to keep him and let him have a full season to show what he can do.
Brandon Nimmo
Oddly the Mets have not given him much opportunity to play his natural position. He doesn't have Lagares' speed nor throwing arm, but he seems pretty athletic overall and mentally focused when he plays the game.
My Prediction
Jay Bruce all the way...yes, he strikes out too much, yes, he's not going to be confused with Roberto Clemente, and yes, the team needs another left handed bat like Hillary needs another email scandal, but quality hitters don't grow on trees and he's still young enough for his age 31 season to put together one monster year heading into free agency.