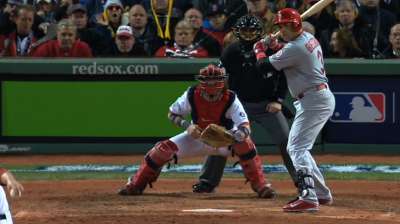 Earlier in the week we looked at some potential trade targets in the AL should Yoenis Cespedes opt to sign elsewhere. Now let's take a look at the senior circuit and what right handed sluggers could be worth considering.
The Milwaukee Brewers control the fate of Ryan Braun, a player I've previously suggested could be a nice fit in New York. He's not exactly a bargain and is on the latter stages of his career. He's owed an average of $20 million per year for the next four years. This season he demonstrated that even without PEDs he's still a productive player, having slugged 30/91/.305 with 19 stolen bases to boot – not bad at all for a guy who just turned 33. However, if the Mets are leery of Cespedes' production as he ages, then I'm not sure they'd embrace Braun (though the $8 or so million per year differential in pay might appeal to them).
The Andrew McCutchen rumors have been fast and furious. His contract is exactly what would appeal to Mr. Alderson – just two years remaining at $14 and $14.7 million years. While he's not the centerfielder he once was, he could certainly man the position better than Curtis Granderson or Michael Conforto. He's a combination of batting average, speed and power. However, his relatively modest cost in today's baseball economy will put him in high demand.
This year may be the prime time for the Diamondbacks to consider trading their slugger Paul Goldschmidt. He has
a very modest price tag of just about $10 million per year for the next two years and then a third year option at $14.5 million when he's just 31. By his lofty standards he's coming off a down year in which he delivered 24/95/.297 with an astounding .411 OBP. A first baseman of his caliber would enable the Mets to move Lucas Duda as well as considering Dom Smith in a package to upgrade another area. It should take a king's ransom to get him but Arizona has been known to make some head scratching trades.
A
nother name to ask Arizona about
is Cuban import Yasmany Tomas. He's another one I was screaming for the Mets to consider when he became available but as usual they wanted proven commodities like John Mayberry, Jr. and Alejandro De Aza. All Tomas did this past season was hit 31 HRs and drove in 83 while batting .272. He's available to play 3B and OF. The right handed slugger will earn $13.9 million per year AAV for the next four years. At age 26 he's still got time to improve over this already impressive production.
Having missed most of 2016 due to injury, the Diamondbacks may not be as enamored of A.J. Pollock as they once were. Teams sometimes get frustrated by things they can't control and DL stints are one of them. Before he got hurt Pollock put together a spectacular campaign playing centerfield – 20/76/.315 with 39 stolen bases.
In 2017 he's set to earn a paltry $6.75 million and is arbitration eligble for the first time in 2018 and a free agent in 2019.
The last so-called can't miss uber prospect who fell flat on his face was the then Kansas City Royals' Wil Myers. If you look at his minor league numbers you would expect to see All Star production. In his final year in the minors in 2012 he hit 37 HRs, drove in 109 and hit .314. It had to come as a huge surprise to find him struggling both to find playing time and to deliver at that elite level. He was moved twice, first to the Tampa Bay Rays and then to the San Diego Padres. This past year he finally seemed to put it together at the ripe old age of 25 by giving the Friars 28/94/.259. Given that San Diego's ballpark is even less hitter friendly than CitiField, he might do even better in the future. He is now hitting his arbitration years and San Diego often is payroll-averse.
Another very low cost option that addresses a need for the Mets is the Marlins' Marcell Ozuna. He's twice now delivered in the 25 HR range while demonstrating a Howitzer for an arm while playing CF. He and the Marlins have a rocky relationship based upon how they m
anipulated his service time in the attempt to control his costs for a longer period of time.
A
HUGE roll of the dice is the seemingly perpetually injured catcher Devin Mesoraco of the Cincinatti Reds. He put together a 25/80/.273 season in 2014 at age 26. Since then he's been doing his Travis d'Arnaud impression, having played just 39 games over the next two years. He was rewarded with a nice contract that will pay him $10 million per year for the next two years. If he could replicate that 2014 season and stay healthy that's a bargain compared to what a Wilson Ramos or Matt Weiters would cost. However, those are huge "ifs".
It might be hard to get the World Champion Chicago Cubs to tamper with their roster, but there are a couple of interesting options out there. First I've advocated looking more closely at Willson Contreras, the catcher who in a part-time role delivered 12/35/.282 in 252 ABs. The decision hinges on what they foresee for the role played by slugger Kyle Schwarber. If he catches, then Contreras is somewhat superflous. If they have him take the outfield where they have Jason Heyward,
Ben Zobrist and Jorge Soler already out there, then one of them might be available. I'm guessing their preference would be to deal away the huge contract given to Jason Heyward but as of now he's penciled in the replace Dexter Fowler in CF. Zobrist is valued for his veteran leadership, so I'm guessing youngster Jorge Soler might possibly be available. Over 3 years in a part time role he's amassed 682 ABs. He his hit 27 HRs and driven in 98. The red flag on him is that he's also struck out 203 times. Believe it or not, to a team like the Cubs he's not a starter. At age 25 the Cuban slugger might have time to develop some plate discipline.
The Dodgers might pay you to take Yasiel Puig off their hands, but if you look at his numbers (antics aside), he's frankly not that good. His high water mark was 19 Hrs as a rookie followed by his sophomore year with 69 RBIs. For $8.75 million for the next two years that's not too bad but then you'd have to factor in the disruption he could be in the clubhouse.
Does anyone appeal to you?