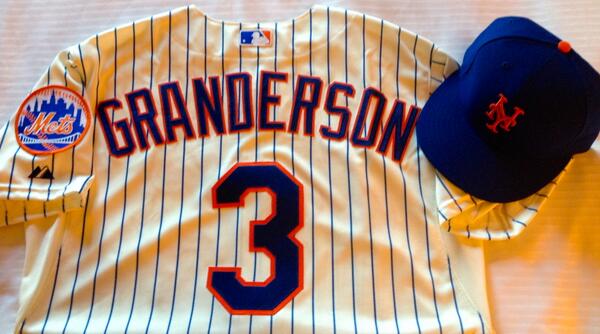 After a horrific start to the season which reminded many of his 2014 Mets debut, Curtis Granderson has come on strongly over the past several weeks, raising his home run total to 16 and on a pace to potentially reach 30 for the season. He's under contract for the remainder of this year and next which means the acquiring team must pay him $16 million for his services and that pro-rated amount for the remainder of this season.
He's the ultimate "good citizen" and not just in a baseball sense. His charitable efforts in both the New York and Chicago areas have been fantastic and he's probably got a career in broadcasting when he decides to close his locker for the last time.
Why then would it make sense to consider moving him in the right deal?
Right now the Mets have a logjam in the outfield. Superstar Yoenis Cespedes is likely going to get his way and play LF for the remainder of the season. Michael Conforto, while no Gold Glover, is certainly adequate in the outfield and will be pushed to RF where he has a whopping 4 games of experience. That leave the true Gold Glover, Juan Lagares, with nowhere to play since Granderson makes too much money, and, combined with his recent hot streak, he's going to be in there nearly every day. Unfortunately Granderson's legs and arm make him a liability in the outfield, though he has more experience out there than the rest of the other options combined.
Now some would say it's foolishness to consider dealing away one of the few productive bats on a team that struggles to score runs, but I would suggest that he's got decent power but little else. What they need are fewer all-or-nothing types of players. They're treading water right now with the lineup they field every day and in September will likely have a virtual Granderson clone returning in Lucas Duda.
Everyone knows the club is reeling from the Matt Harvey injury and the Antonio Bastardo/Erik Goeddel implosions in the bullpen. With very little available on the farm to offer in trade, you have to start thinking about what the club needs to win and how they can reshape themselves into thunder and lightning offense with some decent power complemented by some base running ability. At one point Granderson provided that as well, but at age 35 he's slowing down and speed isn't much a part of his game anymore.
Of course, any prospective trade of Granderson also opens up the question of who takes the outfield roster spot? While the quick answer is Brandon Nimmo, it would mean having two left handed replacements in Nimmo and Alejandro De Aza. Would the payroll savings possibly be the push needed to part ways with De Aza and let a right handed outfielder such as Travis Taijeron finally see the big leagues?
With the manager apparently committed to Jose Reyes at 3B, having Juan Lagares batting in the two hole would give the club two players to set the table for the thunder that follows from Cespedes, Conforto, Duda (when he returns), Neil Walker, Asdrubal Cabrera, Travis d'Arnaud and even the Haley's Comet frequency of Wilmer Flores starts. What the club gets right now is a lot of solo homers. Granderson's almost imponderable stats – 16 HRs and only 29 RBIs – is the best evidence of that phenomenon.
If you assume after his contract ends, he won't be offered another one, then you're really looking at sacrificing the rest of 2016 and his age 36 season in 2017. Personally, I could live with that if it meant bringing on board a pitcher or two who could help, or a high quality AA outfield prospect who might be ready to play towards the end of next season.
To some extent I know I'm grasping at straws, having previously entertained the notions of trading Neil Walker and an astute reader suggested Asdrubal Cabrera. I'd like to see SOMETHING done in the way of signaling you're actually trying to improve the club. Would you offer Granderson straight up for Tyler Clippard, knowing you're taking on his $6.12 million salary for the remainder of this year and next? I'd certainly have to consider it, knowing you pocket $10 million in payroll savings next year and the pro-rated amount this year to go towards addressing other needs.
Thoughts?