It was the best of times, it was the worst of times...
In Superman's Bizarro World things are the opposite of how they are on Earth. In the Mets context there are any number of things you'd like to see happen as the season progresses, but going on a hot streak before the trading deadline is most decidedly not one of them.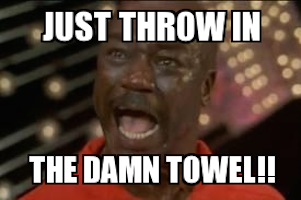 As I'd written yesterday, it's time to throw in the towel and start planning for 2018. Instead, if the Mets sweep the Phillies and perhaps even for once play competitively against the now-depleted Nationals, instead of being sellers at the deadline Sandy Alderson may once again become a buyer. After all, this strategy "worked" the past two seasons since the addition of Yoenis Cespedes, Tyler Clippard, Addison Reed, last year's Fernando Salas, and parts one and two of Kelly Johnson helped push the Mets into the post season. Consequently they're just one or two pieces away from catapulting themselves back into respectability, right?
Wrong!
Look at the starting rotation that the Mets are employing right now. It includes Jacob deGrom (fantastic), Steven Matz (who recently was shown to have pitched better than none other than Clayton Kershaw at the same point in their careers), but then includes Seth Lugo (he of the career 4.29 ERA in the minors), Rafael Montero (he of the 2-9, 5.30 ERA record in the majors) and apparently now Zack Wheeler once again (5.29 ERA). It seems to me you would need more than the addition of Big Sexy to right this ship.
Then look at the offense. You have Jose Reyes on a hot streak rallying finally to cross the Mendoza line and sporting a robust .202 batting average. He's playing there every day because he earns minimum wage, he represents a time in Mets history when the team was good, and Asdrubal Cabrera's range deteriorated to sub-Flores levels. If only there was an alternative hitting .314 with 49 RBIs, 13 SBs and playing gold glove type of defense…
Now no one is happier than Terry Collins that he doesn't have to think due to Michael Conforto's injury. No longer does he have to decide how to juggle Conforto, Cespedes, Granderson and Bruce. It allows his boss to get the best of both worlds – riding Curtis Granderson's recent hot streak and showcasing him for a prospective trade should reality ever set in.
Of course, there's the bullpen – Terry Collins' and Dan Warthen's private pitching torture chamber. They're featuring such "talent" as Neil Ramirez, Fernando Salas, Erik Goeddel and Chasen Bradford. They are getting occasionally good and occasionally bad performances from Josh Edgin and Paul Sewald. Then of course, the names that keep coming up in trade rumors are the competent duo of Addison Reed and Jerry Blevins.
You can't have it both ways. Either you believe that the Mets are headed in the right direction and just need to add a few pieces to overtake the Nationals and/or the Braves, Cardinals, Cubs, Diamondbacks and Rockies. You hang onto your assets with dear life and allow them to walk away at year's end, getting absolutely nothing in return. The other perspective is to peddle away as many of your assets as you can to obtain several diamonds-in-the-rough, a few of whom might conceivably help you in the future on the field or as chips in future trades.
Whether the Mets earnestly believe that when (fill-in-the-blank) recovers from his devastating injury they will have what they need to turn things around…or you believe that the end is not only near but already here, there are tough decisions to be made. My fear is not in which direction the front office decides to go so much as it is that that we will see a repeat of the 2016/2017 off-season when the club did absolutely nothing. That would be even more disastrous than the last time it was tried and failed.
Personally, I'm in the Bizarro World position of being forced to hold out hope for an 0-3 series against Washington's finest to help convince the team that it's time for changes to be made and to turn into full-fledged sellers. If it turns out to be a 3-0 series, I'm afraid those changes as a buyer will handicap the club for the next several years.