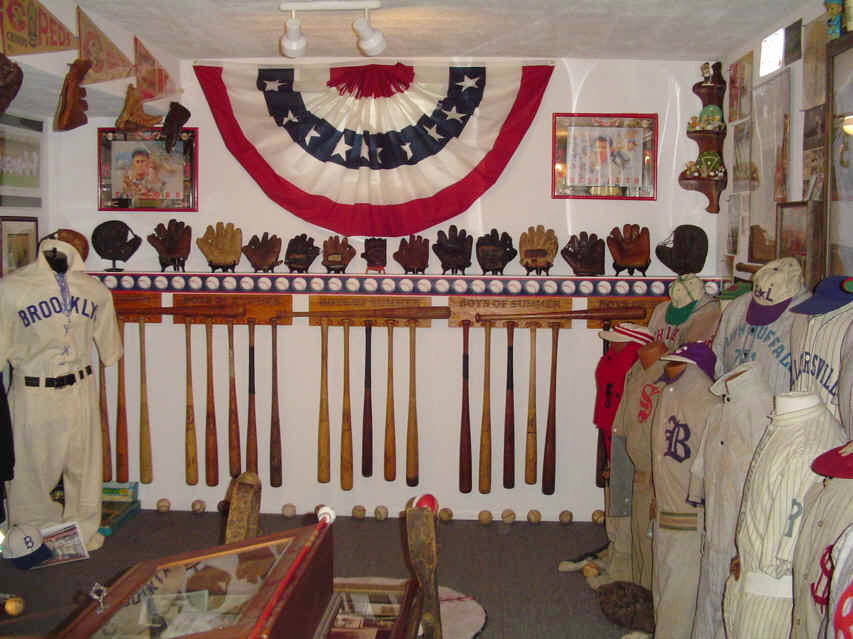 This past weekend I was visited by my niece flying in from Virginia. My adopted hometown of El Paso, TX is not exactly a tourist mecca. In fact, it was a bit disheartening when I moved here nine years ago to get into that de rigueur conversation about why I'd moved here only to get the incredulous reply, "We've been trying our whole lives to get out of here…why would you want to come?"
Over the years I've come to appreciate my decision making even further as I've found the people to be extremely friendly and polite, the weather warm and dry, and the price of nearly everything a fraction of what it was back in the Tri-State area where I grew up as a Mets fan. Yes, it's a little odd getting used to seeing mountains without trees on them, but there's a certain beauty to the desert that you have to experience to appreciate.
During one of our side trips while she was here we ambled into an antiques mall located in a bunch of warehouse buildings on a road called Doniphan. The red barn-like buildings are not too picturesque, but I've found some interesting things there, ranging from furniture to home décor items to books. What I never expected to find there, however, was anything related to the NY Mets, though I did once buy a box of very old baseball cards in the hopes that one or two would have significant enough value to justify the lottery ticket-like purchase of someone's old shoebox full of them.
Imagine my surprise, therefore, to look in one of the glass display cases in which small items that might otherwise walk out of there in someone's pocket were kept under lock and key, only to find this shiny, if somewhat worn and chipped belt buckle from the early 1970s:
So shocked was I to find this little bit of Mets memorabilia in an unlikely place that I wasn't even prepared to haggle over the price (which at an asking number of just $6 was hardly worth the effort). It seemed emblematic to me of the Mets franchise history and the 2015 season in particular…parts of it lustrous and bright, but parts of it in need of touch-up and repair.
At a journey to a huge antiques mall quizzically named Whoopee Bowl I found a perhaps even more interesting couple of souvenirs in amongst the porcelain stoves, old leather-covered trunks and claw-footed bathtubs – two World War II vintage baseball gloves issued by the army to soldiers for days of exercise and recreation. Here some negotiations were needed as the asking price was a bit steep for gloves of unknown provenance save for the hand written tags affixed to each one of them. We went back and forth a few times, settling at what I felt was a fair price of $120 for both.
I decided to take them both and find a shadow box to display them as they helped remind me in that bygone era there were no multi-million dollar contracts, steroid tainted home run achievements, Super Two deadlines nor free agents. It was a simpler time and a simpler game. They will get mounted on the wall in my home office next to my autographed Willie Mays pennant, my Tom Seaver rookie photographs, my Stan Musial autographed ball and the photographs I took in Cooperstown.
Having read many stories about fake souvenirs foisted off on unsuspecting collectors, I've always been a bit gun shy to pull the trigger on big ticket purchases, though I came very close for an allegedly game-worn jersey of Gary Carter one time. Still, no one could produce evidence so I let it go. I've been kicking myself ever since.
Like many of you, I never threw away my baseball card collection. Throughout the years it's pretty much been squirreled away in boxes to protect them from fading, and like many people I constantly chide myself to get organized with them (or perhaps even to put them out on display). I once found frames that would enable you to insert 20 of them at a time and I thought what better "wallpaper" for my man cave than to cover all of the four walls with these framed cards. It's on my list of projects I never seem to find time to finish. It would probably be good to know the claimed value of the card collection, too, though the market for any type of collectibles is hard to quantify in that you need to find a buyer willing to meet the price indicated in the price guide book or website. That's easier said than done.
What are your proudest baseball mementos? Who among us is channeling his or her inner Barry Halper?