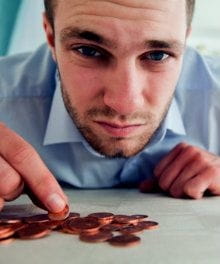 At this time of the year many pundits are analyzing where the Mets payroll will be and how much they have to spend in order to improve the club. Quick fixes are usually expensive and not always successful, but it sure would be nice to read about the Mets being in play for some stud offensive players.
Actually the payroll could conceivably stay flat or even decrease again in 2015 yet the team might produce more. Have I been drinking Sandy Alderson's special Kool Aid? No, but I just looked at the plethora of articles on the payroll and figured that an extremely weak FA class for hitters is going to drive the price of pitchers higher as clubs will be focusing their efforts on the names that are out there for the picking. However, once some career .500 pitcher signs the first multi-year contract paying an average value of more than $10 million per season, Sandy's phone should begin ringing off the hook.
Towards that end, let's take a look at the givens and the expendables. By my calculations the club has $66 million or so in payroll obligations for 24 spots, so there is room for a bonafide superstar bat in the budget.
Givens:
David Wright @ $20 million
Curtis Granderson @ $16 million
Lucas Duda @ $5 million (ESPN arbitration estimate)
Bobby Parnell @ 3.7 million (ESPN assuming no increase due to season lost to injury)
Bartolo Colon @ 11 million (assuming there are no takers for him)
19 others @ $550K (rough average of contract values from the 40 man roster)
24 players @ $66.15 million
The Expendables
Anthony Recker @ $900K (ESPN arbitration estimate)
Ruben Tejada @ $1.5 million (ESPN arbitration estimate)
Eric Young @ $1.95 million (ESPN arbitration estimate)
Jenrry Mejia @ $2.5 million (ESPN arbitration estimate)
Dillon Gee @ $4.5 million (ESPN arbitration estimate)
Jonathon Niese @ $7 million
Daniel Murphy @ $8.5 million (ESPN arbitration estimate)
I know what you're thinking…how could you consider players in the expendables list after Eric Young not worthy of a spot on the roster? It all comes down to payroll flexibility, limited resources and the upcoming major hits to the budget that will occur when some of the younger players like Matt Harvey, Jacob de Grom and Zack Wheeler start hitting their arbitration years and you'll want to have money to lock them up long term.
Now, who plays on this team if you consider the expendables gone in trade (or non-tendered in the case of the first three)?
1B Lucas Duda
2B Dilson Herrera (only because Matt Reynolds doesn't yet have to be added to the 40-man roster)
SS Wilmer Flores
3B David Wright
C Travis d'Arnaud
LF Curtis Granderson
CF Juan Lagares (or Matt den Dekker if Lagares is demanded in a trade as described on Saturday)
RF Newly acquired superstar caliber bat
C Juan Centeno
IF Eric Campbell
IF Wilfredo Tovar
OF Kirk Nieuwenhuis
OF Cesar Puello or Andrew Brown
SP Matt Harvey
SP Jacob de Grom
SP Bartolo Colon
SP Zack Wheeler
SP Rafael Montero
RP Bobby Parnell
RP Jeurys Familia
RP Vic Black
RP Josh Edgin
RP Dario Alvarez
RP Carlos Torres
RP Dana Eveland
Now let's compare the projected 2015 lineup with what was unsuccessful in 2014. How will Dilson Herrera stack up to Daniel Murphy? Will you get nearly 200 hits and a .289 average? Probably more like .260 as he adjusts to the new level, but he will deliver more power and speed so that's at worst a push. Matt Reynolds is but a non-stop flight away in Las Vegas if Herrera sputters.
How about a full year of Wilmer Flores vs. Ruben Tejada? Is a season of .260/15/65 beyond the realm of modest probability? I think not and it would represent a quantum leap forward in offensive production.
Then you have the question of the unnamed newly acquired outfielder vs. the combination of Eric Young, Chris Young, Matt den Dekker and various other warm bodies who occupied left field last season. They've set the bar at limbo championship height, so it's entirely possible you'll see another quantum leap here as well.
Throw in bounce back seasons from Wright and Granderson plus the second half version of Travis d'Arnaud and you'll see that the addition of one slugging outfielder makes the team one that even Terry Collins might not be able to keep under .500 (particularly when you remove the temptations from him to go back to the tried and true failures of the past).
Now the reason for trading Daniel Murphy is obvious – money. While he may be an All-Star on the Mets, he's a super sub or borderline starter on good clubs. However, his projected salary is not unreasonable to better businessmen who understand that investing in payroll is necessary to putting a decent product on the field.
The logic behind moving Jenrry Mejia is a bit less obvious. He's coming off a 28 save season – selling high. He's flamboyant – something the Mets organization abhors. Bobby Parnell is untradeable until healthy, so you have redundant closers. Consequently Jenrry looks like the odd man out.
Dillon Gee and Jonathon Niese look to be the expendable pitchers for reasons I outlined a few weeks ago. They are mid to back end starters, won't embarrass you, but won't likely put you over the top either. The Mets have front end starters bubbling in the pipeline, including Noah Syndergaard and Steve Matz. Consequently you can fill your rotation with what already exists on the 40 man roster and hold off on those promotions until after the Super Two deadline passes. Rafael Montero can man the fort for one of them and, of course, Matt Harvey slots in for the other.
So now the hard part comes – who is that unnamed superstar caliber outfielder to usurp the $19 million or so leftover in the budget? I wouldn't expect them to sink it all on one player, but that does make the Mets seem almost legitimate in the pursuit of a bat considering that they could now afford someone of that caliber.
Almost as important as identifying that player is figuring out what it would take in trade to get him considering there is no one in the FA class other than Yasmani Tomas who might be young enough or strong enough to warrant that kind of consideration.
One name bandied about lately is the Dodgers' apparent dissatisfaction with Yasiel Puig's prima donna tendencies, but the Toyota Camry of clubhouses in Queens wouldn't likely want him to disrupt the sleepwalking culture they've so carefully perfected.
Later this week I'll identify some potential targets to consider.