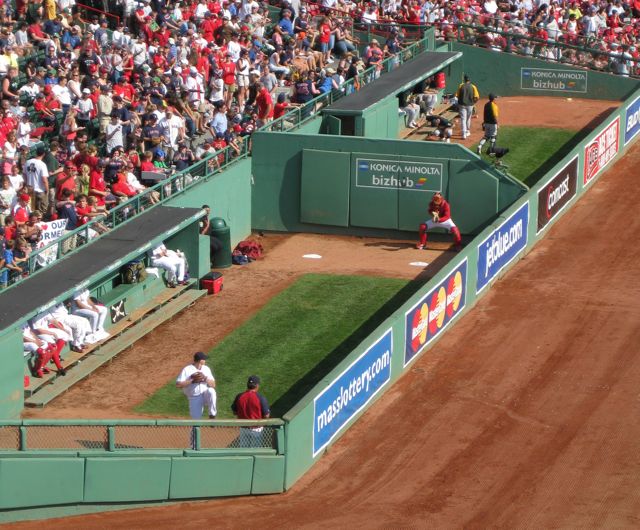 The Mets bullpen in 2016 promises to look quite a bit better than it has coming out of any previous spring training under the current management regime. Right now the Mets would seen to have written in ink the following players – Jeurys Familia, Addison Reed, Antonio Bastardo, Hansel Robles and Jerry Blevins. Depending on how many arms they want out there in April when starters have not yet been fully stretched out to mid-season form, yet there are more off-days than at any other time of the year. Should they go with 6 pitchers out there, it leaves one opening…7 would, of course, create two vacancies. For once it's something of an embarrassment of riches. Let's take a look at the contenders once again.
Sean Gilmartin
The starter-turned-reliever last season appears to be slated for conversion back to a member of the Las Vegas starting rotation. He delivered a shutout performance on Sunday in his first outing, picking right up where he left off during his Rule V rookie year in 2015. Given the two lefties in the pen already and Josh Edgin just around the corner, it would make sense to stretch him out for a starting role as insurance should any of the big five suffer injuries.
Erik Goeddel
Another starter turned reliever, Goeddel has pitched quite nicely when he's been able to stay on the field. Between 2014 and 2015 he's appeared in 40 innings, given up just 27 hits, fanned 40 and walked just 13. His major league ERA is a tidy 2.48. His ability to stay on the field has been a question, so despite his success he may find himself on the outside looking in.
Rafael Montero
The enigmatic but talented Dominican had a lost 2015 with mysterious arm/shoulder woes, but prior to that downturn his minor league numbers were better than what were posted by young guns Matt Harvey, Jacob de Grom and Noah Syndergaard. People seem to be divided on not only whether he's better suited to work out of the pen or in the starting rotation, and whether or not he's genuinely frontline starter material or if he somehow garnered those numbers via smoke and mirrors. Either way, he's likely slated to begin the year in Las Vegas as he needs to prove he's healthy before any decisions on his future can be made.
Logan Verrett
Verrett was lost to the Baltimore Orioles via the Rule V draft, but after failing to impress them enough to keep him on the big league roster the Orioles tried to sneak him through waivers. Plans went awry when the Texas Rangers put in a claim but he lasted just 4 games before they decided they'd seen enough. When he was DFA's by the Rangers the Mets picked him up once again for the Las Vegas rotation where he turned in another credible if unspectacular year. His career numbers as primarily a starter have been a mediocre 33-16, 3.99 ERA with 7.5 Ks per game. He's shown good control but nothing jumps out at you to make you think he'd be a better bet than say Goeddel.
Dario Alvarez
The converted infielder has done very well in the minors. Last year he actually did better in a 16 game trial in the hitter's paradise of Las Vegas than he did when his work was good enough to warrant a promotion from Binghamton. For the season he had 48 games in relief he had 42 IP, 27 Hits and 62 strikeouts! For his minor league career he has a 2.72 ERA. In brief trials with the Mets over 2014 and 2015 amounted to just 5 unimpressive innings, he's like slated for a role in the Las Vegas pen.
Josh Smoker
The former first round draft pick is coming back from some years lost to arm problems, and thus far is impressing in camp. He worked on three teams last year for a total of 49 IP. He held opposing hitters to just a .213 AVG while fanning 60. He's already on the 40-man roster so the possibility of him coming north increases over others like Jim Henderson who, despite more major league success in the past, would have to be added.
Jim Henderson
The big Canadian right hander has been around awhile…how long? He was originally drafted by the Montreal Expos! It was a long road to the majors and he didn't make his rookie debut until age 29 with the Milwaukee Brewers. His 2nd year was pretty impressive – 28 saves and a 2.70 ERA – but looking over his minor league and major league resume that 2013 season seems like an outlier. The rest of his long career has been filler level. He's working his way back from arm troubles. What's in his favor is the manager's preference for veterans over younger players, so even though he's not on the 40-man roster don't count him out.
Akeel Morris
In a way the Virgin Islands native's career arc is similar to Rafael Montero. His numbers out of the pen throughout the minors are pretty eye-popping – 277 IP, 157 hits allowed and 12 Ks per 9 IP. Walks have been a bit of an issue but at age 22 there's still time for him to harness his control. He may find himself in the closer's role in AAA as he's only had 2/3 of an inning above AA (and that was with the Mets).
Buddy Carlyle
He had a surprisingly strong 2014 for the Mets with a 27 game Mets career he turned in a 1.45 ERA for the season. Having been a journeyman throughout his career, no one expected that kind of output from the then 36 year old lefty. He missed most of last year due to a hip condition requiring arthroscopic surgery and he's on the comeback trail, but at age 38 with others ahead of him in the pecking order, he's likely going to be a veteran presence for the 51s.
Other Non-Roster Invitees
None of the following likely have much chance, but anything's possible – Duane Below, Chasen Bradford, Stolmy Pimentel, Paul Sewald and Zach Thornton.
Who's Coming North?
Assuming no trades are made between now and opening day, I'd go with Erik Goeddel and Josh Smoker. Both are strikeout pitchers with higher upside than some of the other options while enough minor league experience that they both seem ahead of both Akeel Morris and Dario Alvarez (the other strikeout pitcher choices).