Stories have surfaced this week that the Mets have come full circle on one Asdrubel Cabrera. After being told he was no longer an asset at shortstop, Cabrera petulantly demanded a trade. Depending on who you choose to believe, Sandy Alderson either patiently sat waiting for the phone to ring or actually dialed it to ascertain what other clubs would offer up in exchange for his disgruntled infielder. Nothing transpired and thus Cabrera whose feared bad influence on rookie Amed Rosario all of the sudden became acceptable as a result of Alderson's inability to pull off a deal and the corresponding promotion of Rosario to shift attention away from his failures.
So now that Rosario is here as well as Cabrera, Jose Reyes, Neil Walker, Wilmer Flores and the ailing duo of T.J. Rivera and David Wright, what does this mean for 2018? (Gavin Cecchini and Matt Reynolds are also on the 40-man roster at infield positions, too, but they're probably afterthoughts in this equation).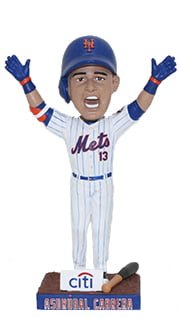 Well, for one thing, the whole "We're considering bringing Cabrera back" thing could just be posturing to make other clubs think he has value to the Mets, hence he might have value to them as well. It's a mighty crowded infield going into next season and Cabrera might be excess.
This posturing could also be some gamesmanship aimed at one Neil Walker who is not going to get anywhere near the $17.2 million he earned this year by accepting the QO. Walker could come back as well but by suggesting the team could be content with the less expensive option of Cabrera, it might serve to temper Walker's salary expectations.
Interestingly, whether Walker or Cabrera come back, it's likely to play the somewhat unfamiliar position of third base because the lead-gloved duo of Rivera and Flores are less lethal in the field at second. At $8 million for next year, Cabrera would likely earn about 2/3 of what you'd expect to pay Walker. Some might call that money saved, while others might suggest that Wilmer Flores could provide more for less.
Of course, if Jose Reyes is back and part of the picture, that further muddies the waters. It took him a very long time to get it going this year, but he does add some speed to a rather lead footed lineup. If he was indeed inserted at 3B as he was earlier this year, he would be able to whisper encouragement to Rosario playing alongside him. He does not profile as a traditional corner infielder as his power is not on par with Flores or Cabrera or Walker or Wright.
Of course, a great many people think instead the Mets should make a run at Mike Moustakas or Todd Frazier for 3rd base while others wearing the rosiest of lenses think David Wright will start the season in his usual spot (I mean at 3rd base, not his usual spot on the DL).
Cabrera is a decent player destined to give you .268/16/74 over the course of 162 games. Jose Reyes is 3 years older and destined to provide .286/13/64 with 47 SBs, but as the old adage goes, would you want to cross a stream that on average was two feet deep? Those Reyes numbers are grossly inflated based upon his earlier career and his more recent efforts are much more pedestrian. Since 2015 he's amassed about 2 seasons worth of ABs and he provided on average .257/12/57 with 24 SBs. That's a man in decline.
The question becomes who are the intended starters? If it's Cabrera, then you might expect somewhat better run producing numbers at the expense of batting average and speed. I'm content with Reyes as a utility player at this stage of his career, but I think his days as starter are over. Speed does not improve with age (unless you're Rickey Henderson).
For $8 million Cabrera is probably fairly paid as a starter given the state of baseball economics. His WAR numbers last year were impressive at 2.7 but his poor defensive showing this year has him at -0.4. He's also in decline and one might wonder if you're going to put a bad glove out on the field might it be better to pay the less expensive and potentially better bat of Wilmer Flores?
I'm sure the Wilpons are reluctant to spend big money on a guy like Moustakas until the David Wright situation resolves itself. Consequently I would think a combination of Flores at 3B, Rivera at 2B and Reyes and Cecchini on the bench would be cost effective, thus allowing them to fortify their rotation and pen.

However, given the injury histories of Walker and Cabrera who both missed significant time with their ailments and thus would be poor investments…why do I have the feeling that's the direction they will be heading?

That unsettling feeling was underscored this week with the word coming down that Sandy Alderson is expected back in 2018. He may not want to leave with the franchise as moribund as the one he inherited, but with the same cast of characters and management team in place do you expect a dramatic reversal of fortunes?