With the 2014 season over it's now time to focus our attention to the 2015 off-season. With the emergence of our young stars this season and the return of the "Dark Knight of Flushing," this off-season is going to be a critical one for Sandy Alderson and company. Today we will review the Rule 5 draft, players who are eligible for it, and decide who we protect.
Rule 5 Draft
For those of you who need a refresher as to what the Rule 5 draft is; its purpose is to prevent teams from stockpiling too many young players on their minor league affiliate teams when other teams would be willing to have them play in the majors. Minor League players who are not on their major league organization's 40-man roster
AND
either A) were 18 yrs old or younger before June 5th, of the year they signed their 1st contract and this is their 5th Rule 5 draft or B) were 19 or older before June 5th of the year they signed their 1st contract and this is their 4th Rule 5 draft.
If a player is selected via the Rule 5 draft, the drafting club must keep them on their 25 man roster for the entire season. If they fail to do so, the drafting club must give the player back to the original club .
Eligible Players
For the Mets, this means the following players are eligible for this season's Rule 5 draft.
(Hat tip to Chris Walendin of tpgmets.blogspot.com for maintaining this list.)
AAA- Las Vegas 51s
Chasen Bradford,
John Church,
Darin Gorski,
Jack Leathersich,
Cory Mazzoni,
Daniel Muno,
Noah Syndergaard,
Zack Thornton,
Cory Vaughn,
Logan Verrett
AA- Binghamton Mets
Xorge Carrillo,
Darrell Ceciliani,
Randy Fontanez,
Ryan Fraser,
Chase Huchingson,
Adam Kolarek,
Rainy Lara,
Dustin Lawley,
Cam Maron,
Greg Peavey,
Tyler Pill,
T.J. Rivera,
Travis Taijeron,
Jon Velasquez,
Gabriel Ynoa
A+- St. Lucie Mets
T.J. Chism,
Maikis De La Cruz,
Cole Frenzel,
Gilbert Gomez,
Julian Hilario,
Seth Lugo,
Luis Mateo,
Domingo Tapia,
Beck Wheeler
A- Savannah Sand Gnats
Octavio Acosta,
Victor Cruzado,
Miller Diaz,
Jeff Glenn,
John Mincone,
Bret Mitchell,
Akeel Morris,
Alex Panteliodis,
Jorge Rivero,
Yeixon Ruiz,
Nelfi Zapata
A- Brooklyn Cyclones
Adrian Abreu,
Alberto Baldonado,
Shane Bay,
Michael Bernal,
Anthony Chavez,
A.J. Pinera,
Luis Rengal,
Eddie Rohan,
Edioglis Villasmil
R- Kingsport Mets
Gaby Almonte,
Leon Canelon,
Oswald Caraballo,
Josh Dunn,
Ramon Estevez,
Jose Figuera,
Juan Carlos Gamboa,
Audry German,
Carlos Gomez,
Vicente Lupo,
Yoryi Nuez,
Luis Ortega,
Persio Reyes,
Ruben Reyes,
Jean Rodriguez
R- GCL Mets
Kevin Canelon,
Jose Celas,
Jose Encarnacion,
Gabriel Feliz,
Manuel Hilario,
Miguel Leal,
Alvin Maracaro,
Flabio Ortega,
Natanael Ramos,
Alfredo Reyes,
Waldo Rodriguez,
Lenny Rosario
Who Should We Protect?
In our last segment we freed up (4) 40 man roster spots with the non-tenders of Andrew Brown, Eric Young Jr., Ruben Tejada, and Buddy Carlyle. In addition, the Mets front office has removed the following players from the 40 man as well, Juan Centeno, Josh Satin, Dana Eveland, and Scott Rice. This gives us (8) eligible spots to use. Here are the guys I would protect and why....
RHSP Noah Syndergaard
- This one is a no-brainer. Syndergaard is a Top 10 MLB prospect and the 2nd to last piece of the Mets future unstoppable starting rotation. He could be selected and made any team's #3 SP today. He should be with the MLB team by July at the absolute latest, barring any injuries. RHRP Cory Mazzoni- Mazzoni is a hard throwing righty that is ready to slot into any MLB bullpen right now. Unfortunately for him the Mets bullpen is pretty packed with righties at the moment but if any of them gets injured in season, look for Mazzoni to be the 1st one called up. There's even an outside chance he could supplant Carlos Torres during Spring Training.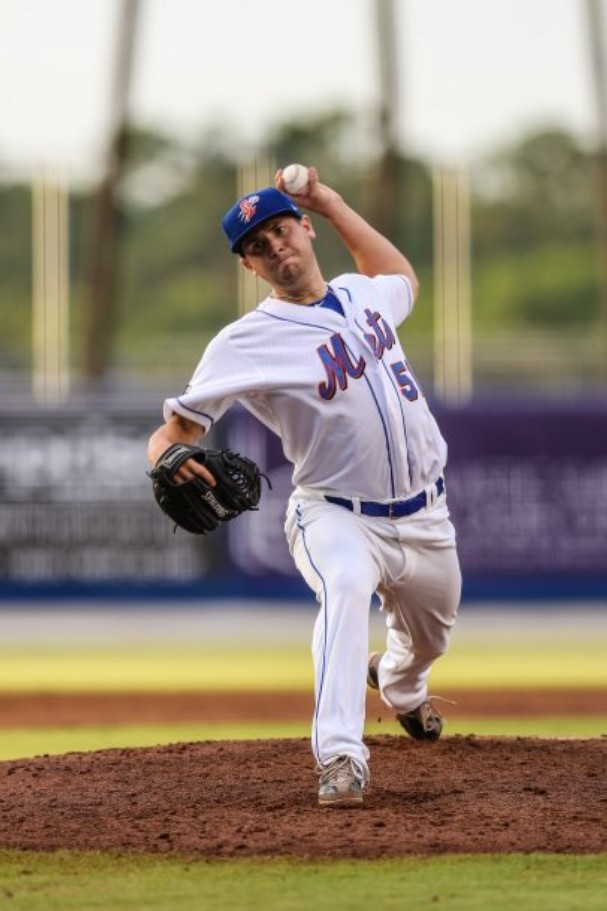 LHRP Jack Leathersich

- The Leather Rocket has the more swing and miss stuff than any other relief pitcher in the Mets organization right now. The only other guy who even comes close to sniffing Leathersich's K rates is Savannah closer Akeel Morris. As a lefty, Leathersich is a prime candidate to be taken during the Rule 5 draft and dropped into a team's back end of the bullpen. The Mets won't let that happen as he has the opportunity to be the club's 2nd lefty out of camp next season.
RHSP Gabriel Ynoa-
While we are on the subject, when it comes to the Rule 5 draft, minor league pitchers are the most likely guys that are selected. This is because teams can always hide them at the #7 guy in the bullpen and only use them in low leverage mop-up situations. After Syndergaard, Ynoa is the highest level right handed prospect in the system right now. We may not be sure if he's going to be an impact player yet, but I'd rather not take the chance of losing him.
C Xorge Carrillo
- Carrillo is absolutely tearing the cover off the ball in the MPL this off-season. That said, he probably was not going to be protected...until Centeno was claimed off waivers that is. With Centeno gone, Carrillo is now the #2 Catcher in the system AND the highest level catcher that is Rule 5 eligible. With Plawecki still 1 year away from needed a 40 man roster spot, Carrillo will likely assume the annual 3rd catcher role for 2015.
RHRP Akeel Morris
- Just like with Ynoa, Akeel Morris is another arm that could be taken in the draft and then hidden in the back of the bullpen. However, unlike Ynoa, we KNOW that Morris can be an impact arm. After his 2014 campaign, Morris has vaulted himself into Top 15 consideration and categorized himself as 1 of, if not, the top true relief prospects in baseball.