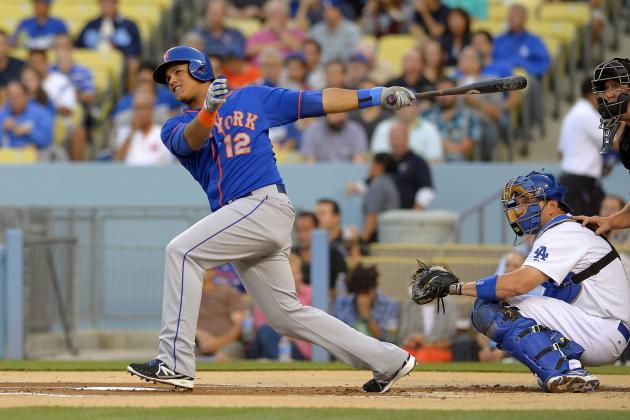 What kind of offensive player do the Mets have in Juan Lagares? A lot of folks figure as long as he hits above league average, the way he plays defense pretty much makes him a sure bet to be in the lineup every day. I started looking around the league to see what comparable I could find and didn't have to go very far to identify a good one – Denard Span, centerfielder of the Washington Nationals.
Let's take a look at Span's numbers and you'll see he's a plus-plus defensive player who generates a good number of stolen bases, modest power and a decent batting average. A typical 162 game year would include a .286 AVG, 6 HRs, 57 RBIs (though that numbers is trending downward as he's serving as a leadoff hitter), 26 SBs, a .352 OBP, .392 SLG and a .744 OPS.
Parenthetically, Denard Span was profiled by
Fangraphs
back at the end of 2014 for his last two year period and compared to the Jacoby Ellsbury who took approximately $22 million per year to produce about the same results as did the Nationals' Span.
Juan Lagares last year in nearly 200 fewer ABs produced .281, 4 HRs, 47 RBIs, 13 SBs, a .321 OBP, .382 SLG and .703 OPS. Where Lagares jumps significantly is in the defensive arena where he's credited with being a 5.2 WAR player during 2014 whereas the veteran Span is rated a 3.2. When you factor in the salaries – minimum wage for Lagares vs. $6.5 million for Span – the Mets really have something here in their everyday centerfielder.
The difference in their games is that in some ways Span is trending downward – RBIs, power – but improving in his pitch selection. Lagares is trending upwards in terms of baserunning speed and run production but he's still swinging and missing far more often than he's getting a base on balls – a 4:1 ratio. He's stolen as many as 25 bases (caught 5 times) in a minor league season in a similar number of ABs, so stealing 30 over the course of a full season is not beyond reason.
As he becomes a regular player, Lagares is beginning to match his minor league numbers which suggest there will be modest improvements in OPS, SLG and SBs. Unfortunately his trend as a free swinger and fairly low OBP was present then, too. In his final full season in the minors he did have less than a 3:1 K to BB ratio, so iff Kevin Long can preach better pitch selection it's possible he can turn himself into a force in the leadoff position. Right now, however, he's probably better in the 8th spot in the batting order.