#25 C Ali Sanchez
(LR
:
#30)
Bats:
R
Throws
:
R
Height
:
6' 0"
Weight
:
175 lb
Age
:
18
Acquired:
2013 International Signing, $690,000 bonus, Carora, Venezuela
2014: (DsL1) .303/.406/.394, 3 HR, 24 RBI, 6 SB (50%), 27 BB, 31 K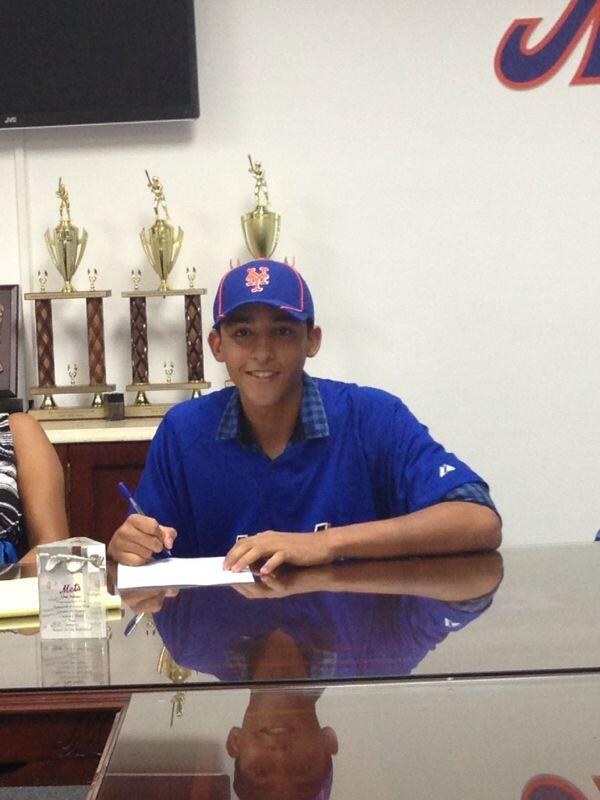 Good catching prospects are hard to find. Especially ones that can both field their position well AND hit the ball well. Its a rare combination that generally always gives a prospect the ceiling of at least a back-up MLB Catcher. In Ali Sanchez's case, his 1st professional season went about as well as it could and he may well be on his way to both that ceiling, and up this list.
Sanchez was considered Baseball America's 25th best international prospect in 2013 as well as the 2nd best catching prospect of the group that year. According to BA's Ben Badler:
"Sanchez is more athletic than (#1 catcher) Jose Herrera and has more experience catching, which is evident in his catch-and-throw skills. He's an intelligent, high-energy player who has good hands and is a good receiver. He has a solid arm that plays up due to his quick transfer and accuracy."
In his 1st professional season with the more advanced of the two Dominican Summer League teams, Sanchez displayed excellent contact abilities getting at least 1 hit in 36 out of his 50 games played. Playing against competition that was generally a year older than him, Sanchez also displayed excellent strike zone recognition skills, K'ing in only 14.8% of his Plate Appearances and BB'ing in 12.9% of them.
As an extremely young player though, Sanchez is not without his faults. T
here are scouts who are unsure if his bat will develop into anything more than a BABIP dependent slap hitter. He doesn't show much home run or gap power in games and his approach in batting practices does not suggest he could develop power either. At 175 lbs though, Sanchez still has room to fill out his catching frame so the hope that he can develop 10 HR power or at least 25+ doubles is still there.
The club will bring Sanchez stateside in 2015 but with the GCL Mets catchers both hitting below .220 last season, the club could be inclined to send him and his advanced approach to Kingsport to play in tougher of the two Rookie leagues. We'll hold onto moving his ceiling up until we see how his does in the US.
Ceiling: Defense minded, light hitting Career AAA C (Kai Gronauer)
Floor: Hits the AA prospect wall and gets stuck in Binghamton
Anticipated Assignment
: (Rk) Kingsport starting C