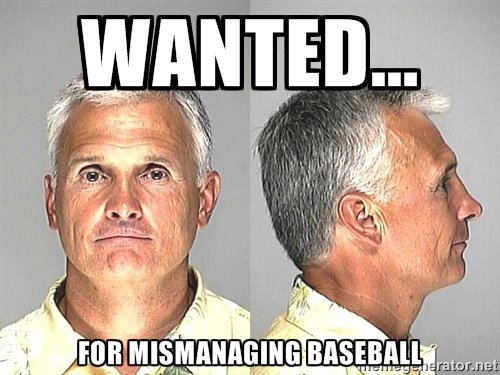 A lot of things have happened during the first two weeks of the season that suggest corrective actions are needed lest it turn into a long, depressing summer.
Bench the Cold Hand
The Skipper seems to have no issue with benching the hot hand when said hot hand is under 30 years of age, but when a veteran player is ice cold and contributing nothing, what is to be gained by trotting him out night after night? There is a theory that the only way to get out of a slump is to play yourself out of it. There's some validity to that. However, you're also trying to win ballgames and towards that end it would just seem to be common sense to play the people who are producing and bench the ones who are not. When you factor in historical decline (Jose Reyes) and seasonal track record of slow starts (Curtis Granderson) then it's doubly imperative to give those ABs to folks who might contribute more even if they have not yet bought their first bottle of "Just for Men".
Don't Let Fresh Arms Go Stale on the Shelf
When the club got over 11 innings of stellar relief pitching in the first game of the Marlins series it was clear they were going to need some extra help. That could have come in the form of 7+ inning stints from the next few starters or you could reach down into the minors to bring up a fresh arm to give a breather to those other folks already on the verge of burnout before the end of April. The Mets opted for the latter, banishing T.J. Rivera for the crime of having options to AAA and bringing up Sean Gilmartin who was scheduled to start on Friday anyway. There's nothing wrong with that approach even though it leaves the bench woefully thin IF you actually used the fresh arm sometime over the course of the weekend. Instead, the Skipper had him warm up once but showed his fear to insert him into a game which makes you wonder why he was there in the first place.

What happened as a result of this genius bullpen management? The Mets lost three straight games blown by pitchers being asked to pitch virtually every day while the fresh arm goes stale. The truly galling one was when Jacob de Grom was sailing along under 100 pitches and was lifted for a clearly exhausted Fernando Salas, who, after yielding a four-pitch walk to a replacement level player was left in to yield not one but two home runs. Making a change from the 8th inning guy when he clearly doesn't have it isn't in Skipper's DNA. He doesn't seem to read exhaustion very well. The same happened on Tuesday night with Salas. Does anyone remember Matt Harvey in the 2015 World Series?

Of course, with the game falling quickly out of reach on Tuesday and pretty much no one left due once again to chronic bullpen overuse, Gilmartin gets to make his perhaps last appearance this early season in mop up duty when Rafael Montero once again crapped the bed.


Ignoring the Actual Statistics
Among the Skipper's many questionable tendencies, one is his obsession with the lefty/righty matchups both for pitchers and for hitters. What he has never considered is that it's not quite that simple and that some righties such as Hansel Robles actually does better against lefties than he does against righties and that some right handed hitters such as Yoenis Cesepedes do better against righties than against lefties. There are several others that fall into the same situation but the old dog seems unable to learn new tricks.
Taking Bets on the Short Straw
Thursday Jeurys Familia comes back and a fresh, quality arm is just what the doctor ordered. It will push back Addison Reed to 8th inning duties and Fernando Salas to 7th inning. Far be it from the Skipper to allow Jerry Blevins to face more than just lefties! So who gets the short straw when Familia returns? Based upon early performances this season it would seem that it's a toss-up between Rafael Montero (against whom the league is hitting a lofty .414) and Josh Edgin (against whom the league is hitting .304), but I suspect they will go another way.

Since both are out of options and the Mets would stand to lose whichever of those two they cut (just as they did Ty Kelly), I'm thinking they keep the heretofore unused Gilmartin around until Thursday then send him down to make room for Familia. They will keep the short bench which becomes really just three men since they won't take the chance on using the backup catcher any given day. This approach allows them to have extra time to try to wangle a trade of either Edgin or Montero rather than just lose them for nothing. If they did actually make a cut, the younger of the two, Montero, is the likelier designee since he's actually pitched far worse. Losing Tuesday night's game may have indeed sealed his fate. Then again Gilmartin did what he could to shoot himself in the foot, too. It's anyone's guess.
Cutting Some Slack
Neil Walker is going to get as many chances as is necessary to justify his outlandish $17.2 million salary. As a veteran not in decline he has earned the right to write off the slow start as just that. At .239 he's not as odiferous as Jose Reyes has been but he's clearly not doing what he did for much of 2016.
Similarly, Wilmer Flores has started off slowly this year, posting just a .188/2/3 slash line with 5 strikeouts in 32 ABs. However, as a point of comparison, Jose Reyes is at .089/0/0 with 13 Ks in 46 ABs. While Flores is not yet showing that solid offense he did last year, he's more than doubling the output of Mr. Reyes. (And for those folks ready to defend Reyes on the basis of his superior speed, please note that as of today he and Flores are tied with zero stolen bases). About the only thing Reyes is contributing thus far are walks as he has 5 so far, but even there the erstwhile leadoff hitter is trailing Yoenis Cespedes, Jay Bruce, Neil Walker and Lucas Duda in that regard.
Some Unexpected Good Performances
A lot has already been written about Jay Bruce's early solid start. However, a few others have somewhat flown under the radar, including Josh Smoker having added a changeup that is setting up his explosive fastball. He has struck out 9 in 6.1 IP while holding the batters to a .208 BAA. He's still walking too many – 5 already – but you can't argue with success.
The other huge surprise has to be Travis d'Arnaud who is currently providing .323/2/9 in just 31 ABs. While many advocated giving him one last hurrah to prove what he could do, I don't think anyone can claim to have seen this kind of hot start in the tea leaves.

The June Changes

Once Amed Rosario spends 55 days in Las Vegas then he becomes part of the equation of what might help the big club. As already speculated, how much better would this club look with Rosario playing short and Cabrera shifting to 3rd? As long as the Mets remain around .500 or above I wouldn't expect them to make significant changes until they get to preserve an extra year of financial control. The Michael Conforto situation is different in that they lost both Lagares and Nimmo at the same time and pretty much had no other options. I still fully expect them to banish Conforto to AAA at some point to let him log his 55 games there. I'm guessing it will coincide with Nimmo's return. The only thing that could change that outcome is an injury to an outfielder or an unexpected trade. Speaking of Nimmo, has anyone found him yet? There has been nary a peep about him.