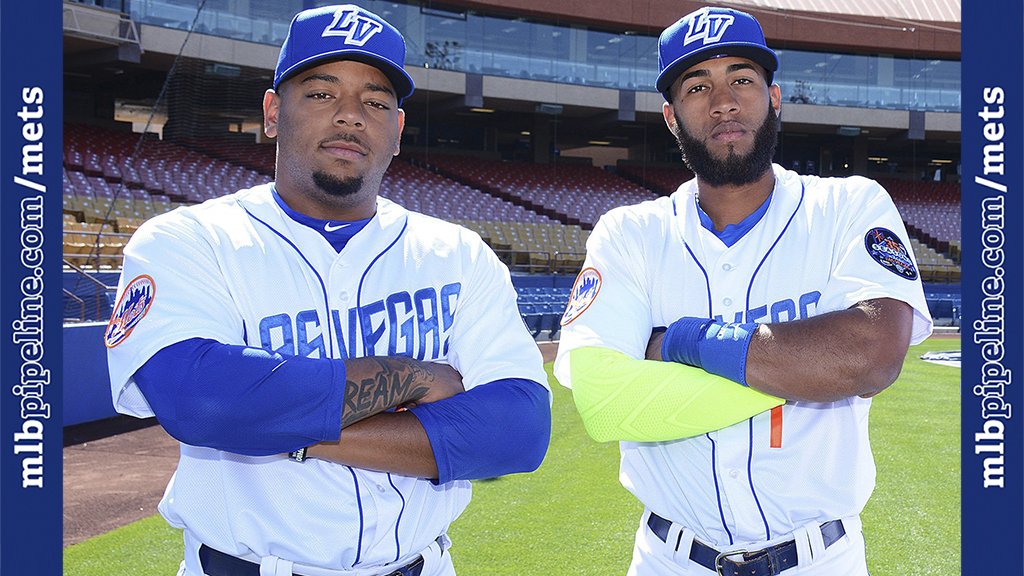 Mets fans are being conditioned to embrace visions of a future with Michael Conforto manning one of the outfield positions, Dominic Smith covering 1st base and Amed Rosario anchoring the left side of the infield at shortstop. Paralleling the infusion of youth would be the disappearance of some older and questionably productive players like Curtis Granderson, Jay Bruce, Lucas Duda, Neil Walker and David Wright.
Reality sometimes has a way of inserting itself into the best laid plans and this year is no exception. No one expected Jay Bruce and Lucas Duda to start off with the flourish they've demonstrated, so that makes their 2018 exits not as set in stone as they once were. David Wright is still getting the kid gloves treatment as I'm sure he's anxious not to walk away from $67 million. Curtis Granderson is probably the surest best not to be a starting Met after this season concludes. Neil Walker is kind of in a no-win situation. The Mets gambled and lost when they went fishing for a compensatory draft pick. To put it in perspective, Walker earns more money than the guys on either side of him (Asdrubal Cabrera and Lucas Duda) COMBINED. (And just to make Tom Brennan wince, he earns about $5.2 million more than Daniel Murphy, too.)
The injuries to Juan Lagares and Brandon Nimmo forced the Mets to alter their plans to have Michael Conforto stay in Las Vegas until June to preserve another year of financial control. While he hasn't played much in the first two weeks of the season, he has done well with his bat. For now they're keeping him around with Juan Lagares back among the living. Paul Sewald was sacrificed to make room and the normal bullpen got taxed to the max on Thursday. Friday they brought in the reinforcement of Sean Gilmartin at the expense of T.J. Rivera. So they're back to the short bench once again.
The other issue is the horrific start by Jose Reyes. No matter how much people have a soft spot for him for the excitement he used to bring to games, the truth is he was merely a league average player last year and this year would have to take several steps forward to achieve that same level of mediocrity. The club has still not figured out what to do with Wilmer Flores and apparently doesn't hold T.J. Rivera in high esteem either. If they are really all-in this year to win it, another possibility not heretofore in the cards could happen.
Amed Rosario made the most of his spring training with the Mets, demonstrating his glove and his speed. The bat was a work-in-progress for the 21 year old, finishing with a .267 batting average. He was assigned to play SS every day for Las Vegas and is actually hitting 3rd in Pedro Lopez' order. Apparently he likes being asked to provide run production as he's off to a fast start with a .423 AVG, a matching .423 OBP and 2 SBs.
While the timetable had Rosario arriving to man SS in 2018, if Reyes' struggles continue into May, might it be worth considering a promotion of Rosario to the big club to play SS with one of Cabrera or Walker shifting to play 3B? In a way, it could be better to ease him into the club now rather than potentially facing 3 rookie types in the starting lineup next year.
Similarly, everyone wants to see Lucas Duda succeed but opinions on what to do with him after this season are varied and the topic of a recent poll of our staff writers. I'm firmly in the "Trade him mid-season" camp as you're going to lose him at year's end anyway unless you use this exclusive negotiating period to ink him to a long term deal. Given his streakiness and fragility, that's unlikely to happen. The Neil Walker situation hopefully taught the Mets not to gamble on qualifying offers, so any way you slice it 2017 should be the end of the Mets road for the big guy. Wouldn't it be better to get SOMETHING for him midway through the year than nothing at year's end?
Towards that end you could insert Wilmer Flores at 1B where he is probably less of a liability than anywhere else on the diamond. Yes, he has poor numbers against righties and off-the-chart numbers against lefties. The fact is that he's still just 25 and could improve against righties if given the chance. His chance though may have to wait until Neil Walker departs.
However, you do have another interesting possibility and that would be the earlier-than-planned promotion of Dom Smith. Now unlike Rosario, Smith truly underwhelmed during his first big league camp. Despite the poor showing, he's batting cleanup for the 51s and posting some eye popping numbers – a .440 AVG, a .680 SLG and an OPS of 1.142. Now that level of production is not likely sustainable nor does it take into account the high altitudes and dry air of both Las Vegas and El Paso where he's thus far had the benefit of hitting. Still, a strong showing by Smith as the year progresses could have a deciding impact of the future of Lucas Duda.
The other interesting twist for the Mets to consider is Jay Bruce. People need to remember that it's been less than 2 weeks, but he's turned the fans around with his strong start. Suppose he goes onto have a 30/100/.260 type of pace for the season – would you extend him a QO? Would you negotiate a longer term deal? Would you try to peddle him at the All Star Break? With his salary much closer to the QO number than Duda's is, that conjecture is not beyond the realm of probability.
So think for a moment about what a lineup could look like for the 2nd half of the season:
SS Amed Rosario
2B Asdrubal Cabrera
LF Yoenis Cespedes
RF Jay Bruce
CF Curtis Granderson
3B Neil Walker
1B Dom Smith
C Travis d'Arnaud
Frankly, for perhaps the first time since the 1986 championship year that's a pretty impressive looking lineup (though frankly I'd still prefer to see Curtis Granderson despite his salary as the 4th outfielder and Michael Conforto starting).