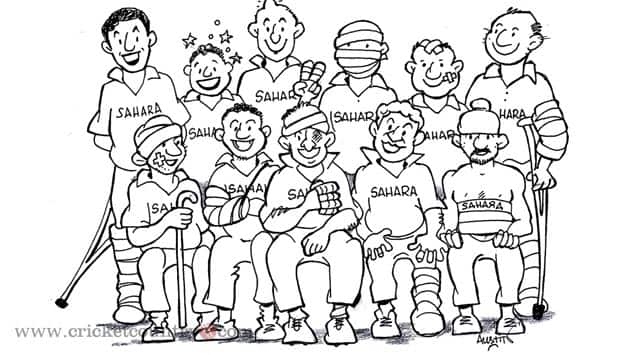 Health is the main issue facing the NY Mets as the front office demonstrated by bringing back the 2016 squad without a single major league roster addition. Considering that they barely eked into the playoffs last year with significant time missed by Lucas Duda, Neil Walker, Adrubal Cabrera, David Wright, Travis d'Arnaud, Yoenis Cespedes, Wilmer Flores, Juan Lagares, Matt Harvey, Steven Matz, Jacob de Grom, Zack Wheeler, Josh Edgin, Jim Henderson and others, it is arguably a minor miracle that they were able to achieve that much.
Of course, the biggest focus of the injury watch should be David Wright. His spinal stenosis and subsequent neck problem have left him a shell of his former self and the Mets are probably secretly hoping for one of two scenarios. In the first one, some miracle occurs and Wright plays like the pre-iPhone days when there was talk of him being the first home grown offensive player to make it Cooperstown. The other scenario is that he's so hampered by his injuries that he will get a medically approved retirement and thus relieve the Mets of their $67 million obligation without looking like bad guys. Unfortunately the in-between scenario is more likely. He will attempt to play at a highly reduced level and again top out at around 50 games or less. This worst-of-all-worlds situation means the club can't reap value for his performance nor can they move on in a new direction for the future. That means lots of Jose Reyes who has certainly lost a step or two but is a better leadoff option than Curtis Granderson. After all, the manager makes no bones about giving veterans the opportunity to keep jobs even when they underperform (remember James Loney?). The only player who might benefit from a Wright DL stint is TJ Rivera who otherwise will be spending another hot summer in Las Vegas. Wilmer Flores continues to reside in Terry Collins' doghouse for whatever reason.
However, it is the pitching that will likely garner the most attention. With Harvey, de Grom, Matz and Wheeler all coming off surgeries of one kind or another, plus Noah Syndergaard having dealt with bone spurs at the end of the season, there is cause for concern here as well. It's that uncertainty that led the Mets to keeping both Seth Lugo and Robert Gsellman around as injuries do frequently occur. With Bartolo Colon's many healthy innings now gone to Atlanta, that was a sound decision.
Of course, the right side of the infield is also a major cause for concern with Neil Walker and Lucas Duda both coming off back surgery. Walker apparently feels well enough that there was even some early talk (since ended) of extending his contract.
With Dom Smith in the wings, Lucas Duda is not hearing any such discussion about his future beyond 2017. In a way he's in a lose-lose situation. If he is unhealthy then the Mets would justifiably cut him loose at year's end. If he is healthy and underperforming, ditto. If, however, he is healthy and having a monster year, he could find himself transformed into a big mid-season trade chip as the club would stand to lose him for nothing unless they made him a QO (which is highly unlikely after being burned by Neil Walker). I don't see him finishing the season at 1B for the Mets.
So, my prediction is some early season struggles for the starting rotation which will put additional pressure on the bullpen. That will lead to late season struggles by the 6th, 7th, 8th and 9th inning guys due to necessity early and manager overuse later. Wright will continue to hamstring the roster and payroll. The bad back twins on the right side will be healthy and, given that they're playing for a big free agent payday, will have monster years. Ditto much maligned Jay Bruce. Curtis Granderson will tank early and not come out of it this year. However, the offense provided by Cabrera, Walker, Duda, Cespedes and Conforto (who will supplant Granderson) will be enough. It will even allow Travis d'Arnaud to be carried all year where he will turn in a credible but unspectacular season of say 15/60/.260. That offense combined with overall good pitching in the middle of the year will have the Mets winning the division by a razor thin margin.