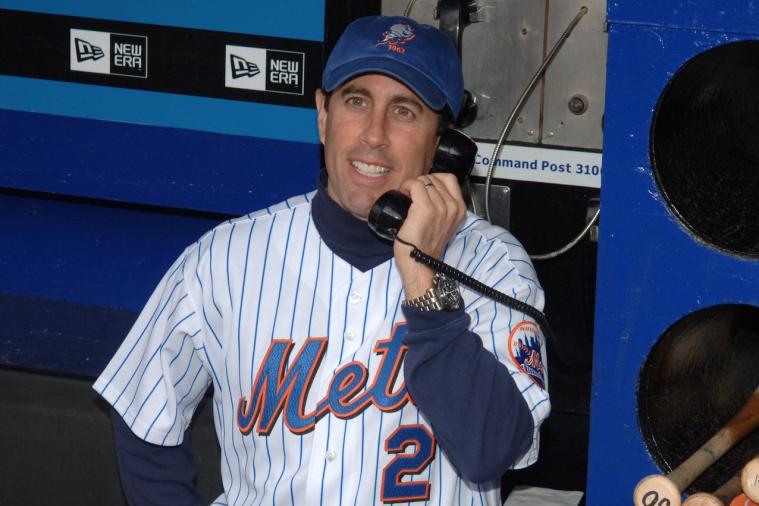 As Jerry Seinfeld proclaimed, we now have a Cespedes for the rest of us. For how long, of course, is the question on everyone's mind. Yesterday's good news about both the Mets and Cespedes agreeing to waive the odd clause that would have rendered him a free agent five days after the conclusion of the World Series is a potentially great development for Mets fans. Had it not changed, the current collective bargaining agreement would have prohibited the Mets from signing him until May 15th. There's no way he would have forfeited six weeks of paychecks just to sign with the Mets. Consequently, instead of having just five days to work out a deal with Yoenis Cespedes, the Mets are on equal footing with the other 29 teams in bidding for his services.
Of course, it's all for naught if the price to lock him up is beyond what the team feels they can afford to spend. There's no question he's been the bright shining star that helped catapult the Mets from near-contenders to division leaders. The numbers speak for themselves – as a Met in 150+ ABs he is hitting .311 with 13 Hrs and 34 RBIs. His slugging percentage is a Trout or Cabrera-like .670 and his OPS is an otherworldly 1.027. To give you a comparison, Bryce Harper in an MVP-likely season is slugging .646 with a 1.114 OPS. The aforementioned Mike Trout is slugging .575 and delivering a .968 OPS. Miguel Cabrera is .567 and 1.098. Yes, Cespedes has been THAT good.
Take last night's game. After becoming the goat for misplaying a single into four bases and burying the Mets behind a seemingly insurmountable 7-1 lead, Cespedes came to bat with the bases loaded. On the very first pitch he lined a bases clearing double down the left field line to add to his RBI total and bring the Mets within a single run, 7-6. They went on to tie in that inning and, of course, went up 8-7 on the unlikely pinch hit HR by Kirk Nieuwenhuis in the 8th inning.
So, everyone is giddy with the team's performance and the way Cespedes has put the offense on his back and led the team towards its first post-season appearance since 2006. What is a fair price for his services going forward if the Mets were to make him an offer as a free agent?
The over-$20 million per year club includes:
Miguel Cabrera $31 million (new contract extension for 2016 onward)
Alex Rodriguez $30 million
Giancarlo Stanton $25 million
Robinson Cano $24 million
Mark Teixeira $23 million
Prince Fielder $23 million
Joe Mauer $23 million
Adrian Gonzalez $21 million
Matt Kemp $20 million
Ryan Howard $20 million
David Wright $20 million
At age 30 he could go one of two ways – go for a contract with an out clause a'la Giancarlo Stanton, or just lock up a long term end-his-career type of deal like Robinson Cano or Joe Mauer. As Mets fans are painfully aware, long term deals like Carlos Beltran, Johan Santana, Jason Bay and even David Wright have a way of coming back to haunt you. Still, rebuilding and trying to make due with 2nd tier players like Chris Young and Curtis Granderson doesn't give you the overall production of one superstar caliber player like Cespedes does (at about the same cost).
Now consider what's coming off the books this year. In all likelihood the Mets will be parting ways with (rounded totals):
Bartolo Colon $11 million
Yoenis Cespedes $10 million
Daniel Murphy $08 million
Tyler Clippard $08 million
Juan Uribe ` $07 million
Eric O'Flaherty $05 million
Addison Reed $05 million
Bobby Parnell $04 million
Jerry Blevins $02 million
Jenrry Mejia $02 million
Kelly Johnson $01 million
Salary Departing: $63 million
Consequently there is money there to pay for Cespedes if the Mets are so inclined. The question is how much and for how long? I would try to put this offer on the table – 6 years and $25 million – $150 million – with an out clause after year 3. Cespedes could then opt to try to snag another big payday at age 33 or remain with the Mets for a guaranteed $75 million. My rationale on the numbers is that this is his first huge season, though it is his second 100 RBI season. He's not at the upper most echelon of performers based on a limited track record, but you are going to have to pay a premium to keep him in New York and for what he's done to improve the team already. If that is the offer on the table, who leaves the room – Cespedes or the Mets (if the numbers are asked to be higher per year or for more years)? This magnitude of deal means that Cespedes and not David Wright is the face of the franchise. Would the team make this kind of commitment?
What is a fair number and a fair term?