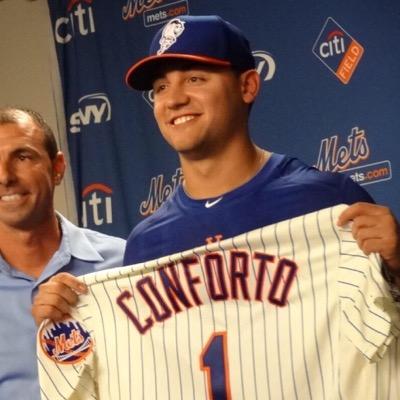 For a franchise primarily built on pitching since its inception, it's understandable that people are gushing over the offensive exploits thus far by Michael Conforto. Here's a rare, home-grown player who is not only living up to his hype but thus far exceeding at the major league level even what he did in the minors.
To wit, in his 589 AB minor league career he hit 15 HRs, drove in 73 and batted .308. Those are nice numbers for sure, but right now he's tracking for a 162 game major league average of 27 HRs, 91 RBIs and a .292 batting average. It's easy to see why fans who have endured outfielders the likes of Andres Torres, Collin Cowgill, Vinny Rotino, Andrew Brown and Eric Campbell during the current regime are salivating over a number three hitter with that kind of talent.
To give you an idea of how bereft the Mets have been when it comes to producing offensive players, you have to hearken back to the club's lone offensive Rookie of the Year -- Darryl Strawberry – who in 1983 in just 420 ABs hit 26 HRs, drove in 74 while hitting .257. He then went on to average 32 HRs and over 90 RBIs per season while stealing 20+ bases as well.
David Wright's health has betrayed him, but he also averaged 25 HRs and 100 RBIs per 162 games with a .297 AVG. He also average 20 SBs per year, but it's not likely going to be a part of his game anymore to preserve his back.
Fan favorite Edgardo Alfonzo was a bit of a late bloomer when it came to home run power but in the late 1990s developed into a feared hitter, hitting double digits in HRs for six straight seasons for the Mets.
After that pickings get mighty slim…Mike Vail had a 23 game hitting streak as a rookie and finished with a .302 average. The Mets believed in him so much that they traded away popular Rusty Staub to Detroit to make room for him in the outfield. After an off-season basketball injury to his foot, he never approached that level of performance again. He hung around for another several years as a part-time player for the Mets, Indians, Cubs, Reds, Giants, Expos and Dodgers.
John Milner was a beacon of hope during some very bad Mets years in the 1970s. He posted three seasons in a row with 17, 23 and 20 HRs but his inconsistency (and admitted cocaine usage) derailed his career.
Todd Hundley mysteriously crushed 41 HRs one season for the Mets after his previous season high of just 16. Of course, he was not alone with the inflated power numbers during the mid 1990s…and after one more solid (if allegedly aided) 30 HR season the Mets had acquired Mike Piazza which made him extraneous. He ironically went to the Dodgers and provided two more 24 HR seasons before ending his career with the Cubs (save for a final brief reunion with LA).
After posting 19 HRs as a rookie then two years later slamming 32 HRs, the Mets kept hoping Ike Davis would amount to the solution to 1B for many years, but his Valley Fever, injuries and inability to cut down on his strikeouts made them select Lucas Duda over him. While Duda's inconsistency can drive people to drink, it sure appears they made the right call with Davis no longer in the majors.
Four years after making his rookie debut, Butch Huskey finally put together the kind of season they'd hoped to see – 24 HRs, 81 RBIs and a .287 AVG.
Unfortunately he slipped across the board next year and was sent packing.
He did have a solid 22 HRs and 77 RBIs
with a .282 AVG for the Mariners and Red Sox in 1999 but was relegated to part-time status for the Twins and Rockies in 2000, never to return to the majors, ending his career at age 29 by retiring.
Daniel Murphy's post-season long ball heroics notwithstanding, he was and is a solid number two hitter whose career high in homers is just 14.
Hubie Brooks showed promise but never put together a 20 HR season while playing for the Mets.
Amos Otis was more consistent than many of the others and twice eclipsed 20 HRs while playing Gold Glove centerfield for the Kansas City Royals. While people bemoan the ill-fated Joe Foy trade that sent him packing, Kevin Mitchell was probably the one that got away…MVP for the San Francisco Giants in 1989.
Here's hoping Michael Conforto's stay is long and productive.
Many people are looking for comps of who he might become.
I tossed out the names of a few players in the past when this question arose…I'd be happy if he became John Olerud with the bat. For his career he averaged 18 HRs, 89 RBIs and .295. I'd sign up for that right now, though, of course, I'd hope for even more.