About That Guy Who Can't Play SS…
Back when the late John Lennon asked us to "Imagine" I never could have envisioned a parallel to the baseball diamond. However, after his second 6-RBI performance of the season (and third straight multi-hit game once inserted into an RBI-producing spot in the batting order), it came to mind. Imagine what the season would have been like back in May had Terry Collins inserted Wilmer Flores into the lineup on a regular basis instead of the Mendoza-line hitting Ruben Tejada? I don't think it's unfair to say it would have made the difference in at least 3 more wins during the season on the basis of increased RBI production and extra base power. I've been one of the most vocal critics of both the post-Jose Reyes shortstop and the guy filling out the lineup card, so I know my perspective is not an unbiased one. However, I hope we safely say that LF is a far bigger priority for the 2015 season than SS.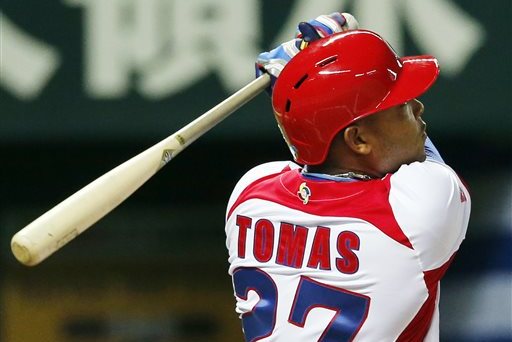 And Who Might Look Good in Left Field…
On the way home from work tonight I picked up a Cubano sandwich to enjoy for dinner. I think my inspiration for this side trip to the only place in the El Paso are known to make them was the announcement that the Mets are sending someone to look at the private workout of defector Yasmani Tomás. Hallelujah!
At the same time, however, I fear for my digestion because we've seen this scenario play out many times already. There was Yasiel Puig and Aroldis Chapman, players the Mets didn't even deign to consider in person.
Then there was the monster slugger Jose Abreu. The excuse we heard then was that the team already had two first baseman, so it wasn't prudent to pursue the unknown commodity who currently has a slash line of .323/39/123 as a rookie for the White Sox (who, incidentally, had both Paul Konerko and Adam Dunn on the roster yet made the move anyway).
Then there was the power and speed combo offered by Rusney Castillo. Surely the Mets would be in on this guy. They needed both parts of his game badly and he was an outfielder – a spot where they definitely needed to upgrade. Instead the Boston Red Sox, five deep in outfielders, made the move.
Now comes word about Señor Tomás, a 23 year old with raw power they say equal to that of Abreu. At that age he's like to continue to get better. He's a corner outfielder. The team needs a corner outfielder. Other free agents were not pursued due to the draft pick compensation There's no draft pick compensation required for this international free agent. They were not in on Japanese options like Yu Darvish and Masahiro Tanaka due to the posting fee. There is no posting fee. The only obstacle is money. Last Saturday I identified over $25 million of available money by trading Bartolo Colon, Daniel Murphy and Chris Young coming off the books. Abreu went for just over $11 million per year on average. Castillo went for just over $10 million per year. Even if this guy went to an insane $15 million per year the Mets could do it and still have $10 million left over to pay for someone like Michael Cuddyer as a slugging sub in RF and 1B. Money is no longer an excuse either.
Still, if I'm a betting man, they will be among the first teams to drop out because Collins just has to get Kirk Nieuwenhuis and Matt den Dekker going…after all Sandy Alderson was on record saying he was exploring in-house options.
Somehow I think that sandwich is going to be like the Mets – sending me to Sam's Club for the industrial sized bottle of antacid.
Assuming They Don't Get Tomás…
What would you think about being on the receiving end of another team's Ike Davis dilemma? That's the situation in which the division rival Phillies find themselves with left fielder Domonic Brown. He's coming off a down year after his 2013 All-Star season in which he slugged 27 HRs.
The problem with Brown's game right now is that he likely became enamored with the long ball. If you look at his minor league career he never topped 20 HRs but sported a career .297 batting average with high contact and very few strikeouts. At 6'5" and 230 pounds he more resembles Lucas Duda than Melky Cabrera.
Now the Mets have not had much success with many of their own hitters, but at the church of OBP to which the hometown players must worship, it's possible a change of scenery and return to what worked in the past could make Brown into a very low cost alternative to someone like the aforementioned Melk Man. Would you sign up for a .275 hitting left fielder with about 19 HRs and 77 RBIs at under $1 million? I'd certainly have to consider it. While he's no 30/100 player, rebounds from David Wright and Curtis Granderson as well as continued development of Travis d'Arnaud and Wilmer Flores might be enough when accompanied by what should be the best pitching staff in the division. What would it take to get him? That's anyone's guess but most people in Philly have soured on him.