#11 RHRP Akeel Morris
(LR
:
#23
)
Bats:
R
Throws
:
R
Height
: 6
' 1"
Weight
:
170 lb
Age
:
22
Acquired:
2010 Rule IV draft, 10th round,
Charlotte Amalie HS (St. Thomas, Virgin Islands)
2014: (A) 4-1, 0.63 ERA, 16 SV, 57.0 IP, 14.1 K/9, 3.5 BB/9, 0.719 WHIP
2013: (SS-A) 4-1, 1.00 ERA, 1 SV, 45.0 IP, 12.0 K/9, 4.6 BB/9, 1.156 WHIP
2012: (Rk) 0-6, 7.98 ERA, 2 SV, 38.1 IP, 11.7 K/9, 5.2 BB/9, 1.565 WHIP
2011: (Rk) 3-2, 3.86 ERA, 0 SV, 51.1 IP, 10.7 K/9, 6.7 BB/9, 1.325 WHIP
2010: (Rk) 1-1, 2.19 ERA, 0 SV, 24.2 IP, 10.2 K/9, 6.2 BB/9, 1.216 WHIP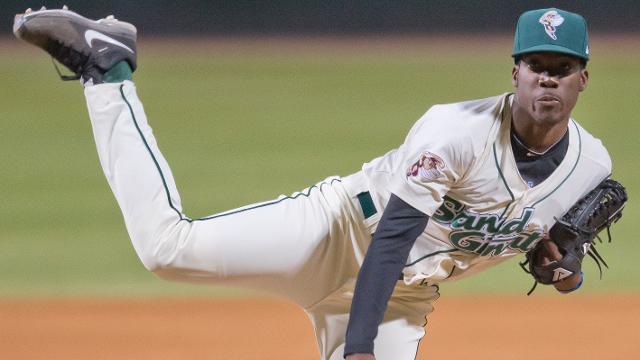 Baseball is a game of balancing success with failure. Its the one game where an individual can fail 70% of time and still be a superb .300 hitter. For Akeel Morris, his early success was quickly destroyed by mechanical flaws which led to a massive failed 2012 season. However, rather than throwing in the towel, he adjusted. Recognizing that Morris had mounds of talent, the front office him converted from a starter to a reliever full time in 2013 and the results were astounding.
Morris built on that superb 2013 season with an video game caliber 2014 season as the organization's newest top minor league closer. Morris faced 211 batters last season and gave up hits to 19 of them. That's right folks.....only 9%!!! of the batters he faced succeeded in reaching base via base hit. Meanwhile 42% of them failed to even make contact as Morris sent them back to the bench via the all powerful K. He was even ranked as Baseball America's top relief pitching prospect in the South Atlantic League.

Morris brings to the table some superior stuff. While his fastball isn't the hottest around, coming in between 92-94 mph with a max of 96, it possesses superior movement that makes it almost impossible to hit for minor leagues. There are some scouts who believe that his fastball can play in the MLB right now. His other pitches have gotten better year over year but still need some work. His change-up is his best secondary offering right now, coming in between 83-85 mph. While the pitch can seem "stiff" at times, when right, it has some excellent down and away tilt to it. The 10 mph speed differential while maintaining his arm speed gives it the opportunity to turn into a plus pitch. His 3rd pitch used to be a curveball but he scrapped it last year in favor of a slider. The pitch is a better fit for his delivery as he can maintain his arm speed while still getting break on the pitch. The slider produces some excellent horizontal movement but currently lacks that ideal downward action that gets batters to swing over the top.
I'm surprised that it took the club so long to convert him full time to the bullpen as his max effort delivery was also a better fit for a relief role. Now that he's there, I would expect the front office to start accelerating his progression through the minor leagues. While I believe he starts 2015 in Port St. Lucie, I would not be surprised if you see him in Binghamton come June and maybe even Las Vegas if Binghamton is not competing and the AAA squad needs bullpen help in pursuit of a Pacific Coast League title.
Ceiling: MLB Closer (
Dellin Betances
)
Floor: Medium Leverage RP
Anticipated Assignment
: (A+) Port St. Lucie Closer.