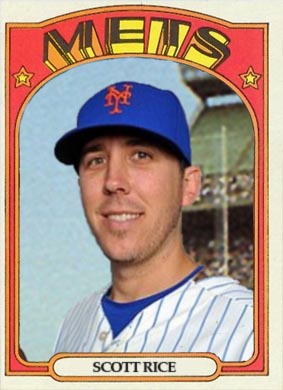 Thus far no one is sure of the extent of Josh Edgin's elbow, but it changes the roster composition most people had projected for the big club. The easiest temporary solution for the team is to give spots to Sean Gilmartin and Dario Alvarez, both of whom are on the 40 man roster already (and Gilmartin having to be offered back before they could stash him in the minors).
If instead the Mets wanted to add Scott Rice to the team, they have something of a dilemma as he is here on a minor league deal and not on the 40-man roster. Assuming the best case scenario where Edgin is prescribed rest and rehab, who would they sacrifice to make the spot for him? (Should Edgin's injury require a stay on the 60-day DL, then he comes off the 40-man roster). A quick look at who's currently on that list and there are precious few in jeopardy of having to be cut or exposed to waivers. The list might include:
Hansel Robles
The 24 year old Dominican right hander has been trending in the wrong direction with his stats. His overall minor league career has been pretty good – a record of 29-20, 3.16 ERA and a respectable 1.171 WHIP while striking out 8.1 per 9 IP. He's not gotten to AAA yet and it's unlikely they would cut bait so soon with the peripheral numbers being what they are. What is disturbing, however, is that his ERA has risen at each new level of the minors including a not-awful but not impressive 4.31 in Binghamton last year. Status GREEN.
Jack Leathersich
Despite the eye popping strikeout totals, he's seemingly fallen out of favor with the team. His AAA and Spring Training trials have been fairly brief so he's still alive but no one is talking about him as a possible closer of the future anymore. People see his ability to strike people out but then get in trouble with the walks and you wonder will his career be more like Mitch Williams or John Rocker (minus the bigotry)? At age 24 they're not ready to give up on him and he does have left handedness in his favor. Status
GREEN
.
Cory Mazzoni
He's a perfectly cromulent pitching prospect for most teams, but the depth the Mets have in their organization suggests he's fallen far behind prospective Las Vegas teammates Rafael Montero , Matt Bowman and Tyler Pill when it comes to chances to make the big club. Just as they exposed Darin Gorski to waivers a year or so ago, the same fate could happen to Cory Mazzoni. I could see him being flipped late in Spring Training to another team to obtain a low level prospect who won't cost a 40-man roster spot. Status
YELLOW
.
Erik Goeddel
Things seemed to be going alright for the big right hander until he hit Binghamton in 2013. There it started to fall apart, with a 4.37 ERA and a 1.44 WHIP. His starting days came to an end and in 2014 he was converted somewhat unsuccessfully to the bullpen where he served exclusively in Las Vegas with poor results. He sported a 5.37 ERA, the WHIP went up to 1.68 and batters hit .296 against him. Despite a less than stellar performance, he did get a late season call to the majors where he pitched much better in 6 games. He's doing well thus far in Spring Training, but at age 26 have flamed out as a starter and trending in the wrong direction, his spot is very much in jeopardy. Status RED.
Cesar Puello
We all know his story and what he can do. Whether it's the shame of the PEDs or attitude problems, he couldn't even get steady work in the OF last year in AAA against such luminaries as Brandon Allen, Andrew Brown, Cory Vaughn and Anthony Seratelli. He had a poor year and being out of options (and seemingly behind the versatile Eric Campbell on the depth chart) he's pretty much a goner. The Mets' best hope is that he has a sizzling spring and can be traded to another club, but more likely the GM vultures will simply wait for him to be cut and then reach out to his agent about a minor league deal. Status RED.
My preference would be to demote Eric Campbell who does have options and bring the speedier and superior defensive outfielder, Puello, to the big club for a longer look. If he flops, you can then always promote Campbell. If he flourishes, then it's a nice problem to have. I'd cut Goeddel.