September 10th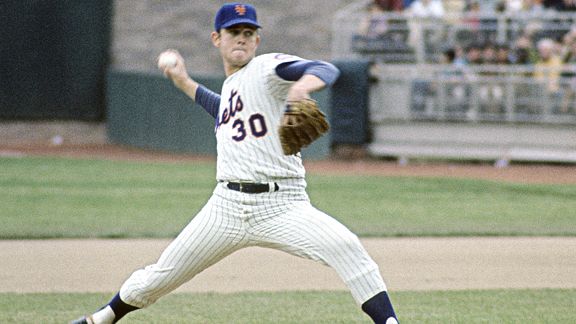 Ryan K's 11 in doubleheader sweep of Expos
A doubleheader against Montreal started off with Jim McAndrew taking the hill for the Mets. 11 innings later he was still out there in a 2-2 ballgame. He would not get the win however, as It took New York another inning to beat the Expos, 3-2, making a winner of reliever Ron Taylor. Ken Boswell's walkoff single ended the game in the 12th. As this was happening the Cubs were losing in Philadelphia.
By the time Game Two started the Mets were in 1st place for the first time all season, by .5 game.
In the second game Nolan Ryan K'd 11 and cruised to a 7 nothing whitewashing of the expansion Expos. New York broke it open in the 3rd with six runs. Wayne Garrett, Cleon Jones and Boswell all hit RBI singles as part of the six hit-six run inning.
At the end of the day New York (84-57) was up by 1 over the Cubs (84-59).